Rich Internet Applications,
Flex, AIR, and maybe a little SAS
Welcome...
This site focuses on Rich Internet Applications (RIAs), Flex, and AIR. This home page provides descriptions of site content (links at right).
To play with some sample Flex apps check out my Flex Demo Apps.
Adobe Apache Flex!?!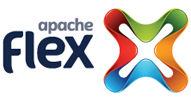 Well, Adobe's recent anouncements that it's dropping the mobile Flash Player and giving Flex to Apache were certainly game changers. I can understand Adobe killing the Flash Player on mobile (it definitely had problems and the lack of iPad/iPhone support was a huge gap) but I'm scratching my head over their killing Flex (ok, not killing, they didn't actually strangle their baby, they just dropped it off at the orphanage).
While I grok the logic of HTML5 for enterprise RIAs in the long term any migration now seems premature because HTML5 is still too immature. On the other hand, making Flex more open does present an opportunity — for an interesting discussion of some possible Flex futures listen to the Flex Show's recent Flex summit roundtable.
As for Flex's future, a lot will depend on how seriously Adobe works with Apache. It's in Adobe's interest, since their recent actions have damaged their brand, and showing they're serious about Flex will do some repair. Certainly their cooperation over the next year will be critical to Flex not just surviving, but moving forward.
Ok, that's all I'll say on this for now, until things clarify it's best to just put your head down and keep on coding — Flex/AIR work isn't going away anytime soon (though it's a good idea to start exploring HTML5 development options, and on that topic I recommend an excellent post by João Saleiro "After 6 years doing Flex, am I moving to HTML5?").
Updates:
Site content
The remainder of this page summarizes site content (links at right).
Most content is focused on Flex/AIR development with just a bit on SAS application development (and before long some HTML5 (i.e., js) appdev, too, I suspect).
Flex primers
Pages in this category are intro-level tutorials for Flex fundamentals. They cover a variety of topics, things I happen to be working on or exploring, from mobile app development to the UIC Lifecycle.
I've created several apps that demo Flex functionality and RIA design. Quick links to these demo apps are at right. However, if this is your first visit I recommend accessing the Flex demo apps page for a brief overview of each demo app and a description of the Flex features it explores.
Latest demo app: World Data Explorer
The World Data Explorer demo app lets you explore CIA world factbook data in tabular views, graphical views (column charts, bubble charts, etc.), interactive maps, videos, etc. Of course, the real purpose of this demo app isn't to explore world data, it's to explore Flex capabilities. more...
Flex/AIR mobile dev
The really fun stuff - I've been playing with AIR mobile dev since the AIR 2.5 prerelease, through Hero/Burrito, to Flex/FB 4.5. The posts in this category may help you avoid/solve some mobile dev problems.
General Flex
This category has a grab-bag of Flex-related content. Some suggest good Flex reference materials (books and blogs, sites with training videos, etc.). The rest cover Flex topics ranging from tips on taking the Flex certification exam to the value of the Flex debugger and profiler.
SAS for Flexers
For quite a few years I was a SAS applications developer, so I've included some info on SAS appdev, especially the SAS+RIA connection. While these pages may be useful to SAS programmers they're primarily targeted at RIA developers unfamiliar with SAS.
About
This category has a couple of pages about me, essentially an online resume for potential employers/clients.

Flex primers
Flex/AIR mobile dev
General Flex
SAS for Flexers
Recommended sites
About